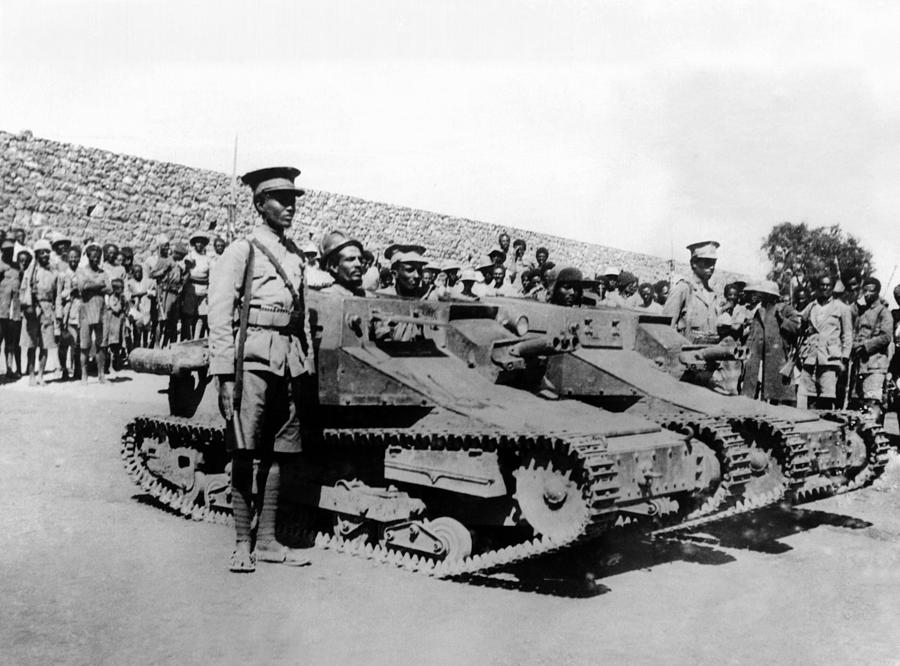 ---------------------------------------------------------------------------------
Enquanto em Jerusalém , Haile Selassie enviou um telegrama à Liga das Nações:''Decidimos por fim a mais desigual, mais injusta guerra, mais bárbara da nossa idade, e ter escolhido o caminho do exílio, a fim de nosso povo não ser exterminado e, um fim de consagrar inteiramente a paz com o preservação da independência do nosso Império ...
Nós agora exigimos que a Liga das Nações prossiga nos seus melhores esforços para garantir o respeito ao pacto, e que ele não deve decidir reconhecer extensões territoriais, ou o exercício de uma soberania assumida, resultante da invasão ilegal ,o recurso à Força armada e muitas outras violações de Acordos Internacionais. Por telegrama, o Imperador etíope pediu que várias nações adiassem temporariamente o reconhecimento da conquista italiana. Em 30 de junho, Selassie falou na Liga das Nações e foi introduzido pelo Presidente da Assembléia como :"Sua Majestade Imperial o Imperador da Etiópia" ( " Sa Majesté Imperiale, l'Empereur d'Ethiopie "). Um grupo de jornalistas italianos zombeteiros começou a gritar insultos e tiveram que ser expulsos antes que ele pudesse falar. O presidente romeno , Nicolae Titulescu, ficou de pé e gritou "Mostrem aos selvagens uma porta!" ( " A la porte les sauvages! "). Selassie denunciou uma agressão italiana e criticou a comunidade internacional por não ajudarem. Na conclusão de seu discurso, que apareceu em noticiários em todo o mundo, ele disse: "Se hoje sou eu, vai ser rápido você amanhã". A França apaziguou a Itália porque não podia correr o risco de uma Aliança entre Itália e Alemanha; a Grã-Bretanha decidiu que a sua fraqueza militar significava que tinha que seguir o exemplo da França.A Resolução fez Selassie ir à Liga para negar o reconhecimento da conquista italiana, foi derrotado ,e lhe foi negado um empréstimo para financiar um movimento de resistência. Em 4 de julho de 1936, a Liga votou para acabar com sanções impostas contra a Itália, em Novembro de 1935 e até 15 de Julho, como as sanções estavam sem fim. Em 18 de novembro de 1936, o Império italiano foi reconhecido pelo Império do Japão e a Itália reconheceu a ocupação japonesa da Manchúria. Um tinha acabado na Frente Stresa. Hitler tinha fornecido aos etíopes 16,000 fuzis e 600 metralhadoras, na esperança de que uma Itália seria enfraquecida ,quando se mudou contra a Áustria. Por outro lado, a França e a Grã-Bretanha reconheceram o controle italiano sobre a Etiópia em 1938.O México foi o único país a condenar fortemente a soberania da Itália sobre a Etiópia, respeitando a Independência da Etiópia por toda parte. O México foi um dos apenas seis países que em 1937 não reconheceram a ocupação italiana, junto com China, Nova Zelândia, a União Soviética, a República da Espanha e dos Estados Unidos. Três ano mais tarde, apenas URSS reconheceu oficialmente Selassie ,e o Governo dos Estados Unidos re-considerou reconhecendo o Império italiano com a Etiópia incluída. A Invasão da Etiópia e a sua condenação geral pelas democracias ocidentais isolou Mussolini e a Itália fascista. De 1936 a 1939, Mussolini e Hitler juntaram as Forças na Espanha durante a Guerra Civil Espanhola. Em abril de 1939, Mussolini lançou uma invasão italiana na Albânia em maio , e a Itália e a Alemanha nazista se uniram no ''Pacto de Aço''. Em setembro de 1940, enquanto as Nações Unidas assinaram o Pacto Tripartite juntamente com o Império do Japão,crimes de guerra como tropas etíopes usando balas dum-dum , haviam sido proibidos pela declaração IV, 3 da Convenção de Haia de 1899 e começou a mutilar capturados eritreus Askari (muitas vezes com a castração). Nas primeiras semanas de guerra. Depois de dezembro, os etíopes começaram a torturar italianos,que retaliaram com o uso de gás venenoso. Forças militares italianos tinham transportado centenas de toneladas de gás mostarda para a África Oriental na década antes da guerra. O Exército italiano usou 300-500 T (300-490 Toneladas) de gás mostarda, apesar de ser um signatário de 1925 do Protocolo de Genebra, justificado pelas mortes de Minniti e seu observador Ogaden. O uso de gás foi autorizado por Mussolini,em Roma, 27 de outubro de 1935, e a Sua Excelência Graziani. O uso de gás como uma ultima razão para submergir a resistência do inimigo e em caso de contra-ataque está autorizado,Mussolini, Roma, 28 de dezembro de 1935. A Sua Excelência Badoglio disse que o sistema inimigo que autorizou a Vossa Excelência o uso mesmo em grande escala de qualquer gás e lança-chamas,disse Mussolini. Alvos militares e civis foram bombardeados com gás, e em 30 de dezembro a Unidade da Cruz Vermelha foi bombardeada em Dolo e uma ambulância Egípcia foi atacada por Bulale. Alguns dias depois uma Unidade médica Egípcia foi bombardeada em Daggah Bur. Houve mais ataques em janeiro e fevereiro, em seguida, em 4 de março de 1936, um acampamento da Cruz Vermelha Britânica perto de Quoram parecia ser o ataque mais deliberado de tudo, quando voando baixo tripulações de aviões italianos não poderiam não ter visto os grandes Sinais da Cruz Vermelha. O gás mostarda foi pulverizado a partir de cima sobre os combatentes e vilas da Etiópia. Os italianos tentaram manter em segredo seu socorro á guerra química, mas foram expostos pela Cruz Vermelha Internacional e muitos observadores estrangeiros.Os italianos afirmaram que foram feitos pelo menos 19 bombardeios contra as tendas da Cruz Vermelha ,postadas nas áreas de acampamento militar da resistência etíope". Os italianos tentaram justificar seu uso de armas químicas, citando uma exceção ás restrições feitas no Protocolo de Genebra, onde foram referenciados o uso aceitável do gás para represálias contra atos ilegais de guerra. Eles afirmaram que os etíopes tinham torturado ou matado prisioneiros e ferindo soldados feridos. Os italianos entregaram o gás venenoso por vasilhas de artilharia e bombas lançadas pela Regia Aeronáutica . Embora mal equipados , os etíopes haviam conseguido algum sucesso contra o armamento moderno, mas não tinham nenhuma defesa contra uma "chuva química terrível que deixou pessoas queimadas e mortas". Anthony Mockler escreveu que o gás de efeito de mostarda em Batalha foi insignificante e, em 1959, DK Clark escreveu que o major Norman Fiske dos EUA pensou que os italianos eram claramente superiores e que uma vitória para eles foi assegurada, não importa com o que. A utilização de agentes químicos na guerra não era nada mais que fazer uma Experiência. Ele concluiu: "De minhas próprias obervaçoes e de falar com Oficiais e soldados italianos, cheguei a conclusão de que o gás não foi amplamente utilizado na Campanha Africana, e seu uso teve pouco ou nenhum efeito sobre o resultado". - DK Clark
Os italianos, como o correspondente de guerra Indro Montanelli observou, que os soldados italianos não tinham máscaras de gás, Que não houve uso de gás ou foi usado em quantidades muito pequenas em tudo. As seis províncias fizeram um encontro em 10 de maio de 1936, na Etiópia,e tropas italianas da frente norte e para a frente sul se conheceram em Dire Dawa. Os italianos encontraram o Ras etíope recém-lançado,Hailu Tekle Haymanot, que embarcou em um trem de volta para Addis Ababa, e aproximou-se dos invasores italianos em submissão. Selassie fugiu para Gore no sul da Etiópia para reorganizar e continuar a resistir aos italianos. No início de junho, Roma promulgou uma constituição para a África Oriental Italiana (AOI,África Oriental Italiana), trazendo Etiópia, Eritréia e Somália Italiana juntas em uma unidade administrativa de seis Províncias. Badoglio se tornou o Primeiro vice-rei e governador geral,mas em 11 de junho, ele foi substituído pelo Marechal Graziani. Em julho, como forças etíopes atacaram Addis Ababa , numerosos membros da realeza etíope foram feitos prisioneiros e outros executados . Depois se renderam, incluindo três filhos de Ras Kassa. Em 19 de dezembro, Wondosson Kassa foi executado perto de Debre Zebit, e em 21 de dezembro Aberra Kassa e Asfawossen Kassa foram executados em Fikke. No final de 1936, depois que os italianos o localizaram em Gurage, Dejazmach Balcha Safo foi morto resistindo até o fim. Em 19 de dezembro, Selassie se rendeu no rio Gojeb .Após o fim da estação chuvosa, uma coluna italiana deixou Addis Abeba, em setembro e ocupou Gore um mês depois. Como as forças de Ras Imru ficaram presas entre os italianos e a Fronteira com o Sudão ,Ras Imru se rendeu em 17 de dezembro. Imru foi levado para a Itália e preso na ilha de Ponza , Enquanto o resto dos prisioneiros etíopes tomados na guerra foram dispersos em Campos no Leste da África e Itália. Uma segunda Coluna foi feita no Sudoeste para atacar Ras Desta e Dejasmatch Gabre Mariam haviam montado Forças militares na zona dos Grandes Lagos. Os etíopes foram derrotados em 16 de dezembro, e em janeiro, os italianos haviam estabelecido uma medida de controle sobre as Províncias de Jimma, Kafa e Arusi. Depois de mais de dois meses, os etíopes restantes foram cercados e lutaram, ao invés de se render. Mariam foi morto e Desta preso e morto, com sua cabeça cortada que estava sendo exibida em Jimma. Mussolini deu ordens em Roma, em 5 de junho de 1936 para Sua Excelência Graziani de que todos os rebeldes feitos prisioneiros deveriam ser mortos.Em Roma, 8 de julho de 1936, a Sua Excelência Graziani autorizou para começar e sistematicamente conduzir uma politica de terror e extermínio dos rebeldes e cúmplices na população . A maior parte da repressão contra a população foi realizada por Tropas Coloniais (principalmente da Eritreia) a OMS italiana, de acordo com os etíopes, instituiu campos de trabalho forcado, patíbulos públicos foram instalados, matou reféns e mutilou os corpos de seus inimigos. Muitas tropas italianas haviam sido fotografadas ao lado de cadáveres pendurados na forca ,e estavam com baús cheios de cabeças isoladas. A reação católica foi misturada à conquista italiana da Etiópia. Temendo represálias ao Partido Nacional Fascista, alguns bispos deram louvor. Em 1973, Anthony Rhodes escreveu, em sua Carta Pastoral de 19 de outubro , o bispo de Udine na Itália escreveu: 'Não é oportuno e adequado para nós para se pronunciar sobre os erros e acertos, fazem caso. Nosso dever como italianos, e ainda mais como cristãos é contribuir para o sucesso das nossas armas.No dia 24 de outubro, o bispo de Cremona consagrou uma série de bandeiras regimentais e disse: 'A Bênção de Deus esteja com esses soldados ,que em solo Africano, vai conquistar terras novas e férteis para o povo italiano, trazendo assim eles para a cultura romana e Cristã. A Itália pode ser mais uma vez conhecida como a mentora dos Cristãos no mundo inteiro '. O Papa Pio XI havia condenado o totalitarismo na encíclica e fez gestos para o regime fascista, apresentando uma rainha da Itália com uma rosa de ouro quando ela foi Feita Imperatriz da Etiópia, mas apesar da grande pressão de Mussolini,o Papa recusou-se a abençoar os exércitos italianos. Pio pode ter se recusado a dar apoio absoluto ao regime , mas também não conseguiu impedir Bispos italianos de fazê-lo em seu lugar. Isto coincidiu com o aumento do movimento anti- Mussolini e anti-clericalismo e afirmou que "o papado era um tumor maligno no Corpo da Itália e deveria ser erradicado uma vez por todas', Porque não havia lugar em Roma, para o Papa e para ele mesmo". Em dezembro, Graziani declarou o país um ser pacificado e solucionou o controle italiano.A resistência etíope continuou e a ocupação italiana foi marcada por Campanhas de Guerrilha contra os italianos e represálias por parte dos italianos, incluíndo ataques com gás mostarda contra rebeldes e a execução sumária de prisioneiros. Em 19 de fevereiro de 1937, durante uma cerimônia pública no Palácio Nacional em Addis Abeba (a antiga residência Imperial),Abraha Deboch e Moges Asgedom tentaram mataram Graziani com granadas de mão. Guardas de segurança italianos dispararam indiscriminadamente contra uma multidão e mataram cerca de 300 civis e espectadores; Durante a noite, os Blackshirts atravessaram o território etíope e assassinaram pessoas com espadas, facas, rifles e bombas. Quando o massacre terminou em 22 de fevereiro, milhares de etíopes haviam sido mortos. Ao longo das próximas semanas, como autoridades coloniais italianos executaram cerca de 30.000 civis em represália. Cerca da metade da população etíope educou jovens etíopes que foram mortos ,que ficou conhecido como Yekatit 12 (o calendário etíope equivalente a 19 de Fevereiro). Em dezembro, Ras Desta Damtew tinha sido forçado a sair da sua base de Operações em Irgaleme,e foi executado foi em 24 de Fevereiro. Dejazmach Beyene Merid que tinha acabado de juntar forças com ele também foi morto. Entre 1938-1940 - Duque de Aosta. Em 21 de dezembro de 1937, Roma nomeou Amedeo, 3º Duque de Aosta, como o novo Vice-rei e governador Geral da AOI, com instruções para tomar uma linha mais conciliatória. Aosta instituiu projetos de obras públicas, incluíndo 3.200 km (2.000 Milhas) de novas estradas pavimentadas, 25 hospitais, 14 hotéis, dezenas de estações de Correios, Centrais telefônicas, aquedutos, escolas e lojas. Os italianos decretaram uma miscigenação ilegal por separação racial, incluindo um conjunto residencial segregado, foi aplicado tão completamente quanto possível e os italianos mostraram favoritismo para grupos não-cristãos. Para os dominantes isolar Amhara dos governantes de Etiópia, que apoiou Selassie, os italianos concederam aos Oromos, Somalis e outros muçulmanos, muitos dos quais haviam apoiado a invasão; autonomia e direitos. Os italianos também aboliram definitivamente a escravidão e revogaram leis feudais que haviam sido defendidas pelos Amharas. No início de 1938, uma revolta eclodiu em Gojjam, liderada pelo Comitê de unidade e colaboração, composta por alguns dos jovens de elite, educados, tinham sofrido represálias após escapar de uma tentativa de assassinato contra Graziani. Houve uma nova onda de represálias, e teve todos os etíopes em trabalhos administrativos assassinados, alguns para serem jogados a partir de aeronaves, depois de terem serem sido enganados, sob o pretexto de visitar o Rei de Roma, levando a palavra "ele vai para Roma". Inglaterra e França reconheceram a soberania italiana sobre a Etiópia pelos acordos anglo-italianos de 1938. O Exército de ocupação teve 150.000 homens, mas foi pouco espalhado ; em 1941 a guarnição tinha sido aumentado para 250.000 soldados, incluindo 75.000 civis italianos. O ex-chefe de polícia de Addis Ababa, Abebe Aregai, foi o líder mais bem sucedido do movimento guerrilheiro etíope após 1937, utilizando unidades de cinquenta homens. Em 11 de dezembro, as Liga das Nações votaram para condenar a Itália ,e Mussolini se retirou da Liga. Junto com a condenação mundial, e o quanto caro que a ocupação foi, o orçamento necessário para 1936-1937 era de 19,136 bilhões de liras para infra-estrutura, enquanto a receita anual da Itália foi de apenas 18.581 bilhões de liras.Em 1939, Ras Sejum Mangascià, Ras Ghetacciù Abate e Ras Kebbedé Guebret foram submetidos ao Império italiano e a guerrilha se esgotou. No início de 1940, a última área de atividade de Guerrilha foi em torno do lago Tana e no sul de Gojjam, com a liderança de Mangascià Giamberè e Belay Zelleke. Campanha do Leste Africano, 1940-1941 V (II Guerra Mundial) . Soldados da Força de Fronteira Oeste Africano removeram marcadores fronteiriços italianos da fronteira Quênia-Somália italiana de 1941 .Enquanto no exílio na Inglaterra, Haile Selassie tinha procurado o apoio das democracias ocidentais para a sua causa, mas teve pouco sucesso até um começou Segunda Guerra Mundial. Em 10 de junho de 1940, Mussolini declarou guerra à França e Grã-Bretanha e atacou britânicos da Commonwealth ,assim como forças no Egito , Sudão , Quênia e Somalilândia Britânica. Em agosto de 1940, uma conquista italiana da Somalilândia Britânica foi concluída .Os britânicos incitaram Selassie com as Forças locais da Etiópia e outros para participar de uma campanha para desalojar os italianos da Etiópia. Selassie foi para Khartoum para estabelecer uma ligação mais estreita com as Forças Britânicas e Resistência dentro da Etiópia. Em 18 de janeiro de 1941, Haile Selassie I cruzou a fronteira para a Etiópia perto da aldeia de Iddla, e dois dias depois encontrou-se com a força de Gideon . Em 5 de Maio, Selassie I e um exército de forças grátis etíopes entraram em Addis Ababa.Após uma derrota italiana, uma guerra de guerrilha italiana na Etiópia foi realizada por remanescentes de tropas italianas e seus aliados, que durou até o armistício entre a Itália e as forças armadas aliadas em setembro de 1943. Tratado de Paz com a Itália de 1947 :O tratado assinado em Paris pela República Italiana( República Italiana ) e as potências vencedoras da Segunda Guerra Mundial em 10 de Fevereiro de 1947, incluiu o reconhecimento oficial italiano da Independência da Etiópia, e igualmente a um acordo para a Itália pagar US $ 25.000.000 em reparações. A Etiópia tornou-se independente novamente ,e Selassie I foi restaurado como seu líder.A Etiópia apresentou um projeto de lei para a comissão econômica para a Itália de £ 184.746.023 por danos infligidos durante o curso da ocupação italiana. A lista inclui uma destruição de 2.000 igrejas, 535.000 casas, o abate ou roubo de 5.000.000 bovinos, 7.000.000 ovelhas e cabras, 1.000.000 cavalos e mulas e 700.000 camelos....
Esse episódio da guerra entre a Etiópia e a Itália influenciou bastante os principais nomes do reggae jamaicano...
Bob Marley And The Wailers, por exemplo, exibiu essa foto de Haile Selassie I e seus soldados em plena batalha na contra-capa de seu álbum ''Survival'' (1979)
-------------------------
https://en.wikipedia.org/wiki/Second_Italo-Ethiopian_War
-------------------------------
Medical supplies for the front in Addis Ababa.