--------------------------------------------------------------------
Guillaume "Stepper" Briard é um saxofonista e percussionista francês que tocou com os grandes nomes do reggae jamaicano como Horace Andy (discos Mek It Bun,Horace Andy + Sly and Robbie - Livin´ It Up,)

Sly and Robbie and The Taxi Gang,(grupo do qual faz parte,e está constantemente em tourné),
U-Roy (CD Now),Omar Perry (discos Can't Stop Us e Man Free ),Gregory Isaacs e vários outros artistas..
Stepper constantemente visita a Jamaica..
Quantos aos intrumentistas,tocou com o cremes dos músicos da ilha como Sly Dunbar, Robbie Shakespeare
,Errol "Flabba" Holt, Leroy "Horsemouth" Wallace , Earl "Chinna" Smith, Wayne Armond, Christopher Birch,

Uzziah ´Sticky´ Thompson,Alvin Haughton,
Clive Hunt,

Dean Fraser
Nambo Robinson

,
Chico Chin,

os três últimos, com quem Stepper forma uma seção de metais competente..
Também trabalhou com muitos artistas conterrâneos do reggae francês como Pierpoljak
Igualmente Stepper tocou com o artista americano Rusty Zinn no álbum ´Manifestation´, e na coletânea Various - Big Men - Raï Meets Reggae,de 2001...
Sempre que você ver ou ouvir uma
liberação impressa de

"Sly And Robbie" , você pode imediato prever que você vai estar em um passeio musical emocionante.Há muito tempo membro da
Taxi

Gang,o saxofonista Guillaume "Stepper" Briard promete exatamente isso com seu álbum de estréia.
A história começa em Paris durante a década de 80, quando o jovem Guillaume afia suas habilidades em vários instrumentos com diferentes formações.
Durante uma viagem à Jamaica, ele ganhou seu apelido "Stepper", e conheceu alguns dos artistas que ele fará uma turnê e gravar por ano no final.
Sly And Robbie abriram seus cofres para Stepper, que escolheu e escolheu riddims clássicos e novas sessões jamaicanas para este álbum de estréia.
Em sua seleção, Stepper escolheu com precisão.
Os riddims são sonoramente incomparável com seu toque elástico e intemporal do "Riddim Twins 'tudo soberbamente mixado e masterizado pelo
engenheiro

francês de mixagem Fabwise , a estrela em ascensão do Dubmasters.
Criando melodias ondulantes sobre a produção, Stepper brilha com seu saxofone; cautelosamente mostrando a profundidade de seu criador
.Com a escassez de álbuns instrumentais em lançamento hoje em dia, ´´Sly & Robbie Presents Stepper Takes The Taxi´´ recebe de volta uma era da música Reggae muito amado e apreciado com Stepper avançando como um dos líderes do bloco....
---------------------------
------
http://www.discogs.com
/search?type=releases&q=Guillaume+Briard
DISCOGRAFIA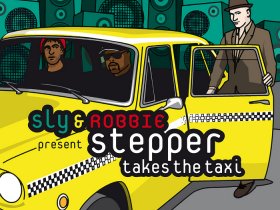 Sly & Robbie present Stepper Takes the Taxi-2013
Instruments and Performer
2007

|

CD, DVD

|

Mideya
|
CD
|
Tabou 1
2007
|
CD
|
No Direction Home,
|
CD
|
Makasound